Mini Primes + RED Komodo is an ideal combination.
I was encouraged to try them out at a Cinegear in LA and ended up getting the entire set in RF mount.
When you have a 6K camera, you need to have the resolving power and these babies (for all intents and purposes they are tiny) deliver!
Something very important about the history of these lenses, they were designed from the ground-up as cine lenses without taking a stills lens and striping it out and doing a conversion.
First on the practical aspect,
Gears are in the same position for the entire set.
Filter thread is ø 77mm and front diameter is ø 80mm across the set.
The red section of the barrel near the lens mount is a consistent ø 65mm which is rather important because it allowed me to attach The Lens Cuff and mount a focus motor directly on the lens while leaving the front entirely free for use with a matte box.
The damping of the focus and iris rings is consistent and buttery smooth.
Focus markings are accurate.
All that ties well with the all metal construction while keeping the weight down.
As for the optics themselves,
Distortion is kept to a minimum, being barely noticeable even on the 10mm.
Breathing is very well controlled and only if you put some effort you can see it.
The coatings work perfectly to eliminate aberrations and flaring while contrast and colour accuracy are comparable to lenses with a few zeros added to the price tag.
And the curved aperture blades render a pleasing out of focus bokeh.
In short, I absolutely love working with the Meike Mini Primes and the fact that I can fit the entire set in my backpack with two RED Komodos and a laptop, makes them the best Cine Travel Set!
Finally, the sales and after sales experience with Revar Cine is the best part!
NB: Linked is an extensive lens test I performed. A video review will follow soon.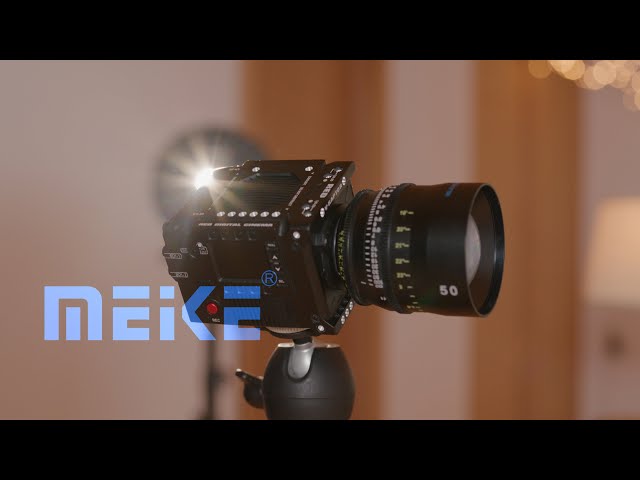 I Love These Lenses
Although I certainly shouldn't be considered an expert, I do think these lenses are wonderful. Nice and creamy, with great bokeh. I use a BMPCC 6K and I had been shooting with Canon SLR lenses and while nice, they were also limiting. I'll still use them sometimes, but now when I reach for a prime, it wil most likely be my Meike leneses.
I have the 18mm, 25mm, and 50mm. I am a very satisfied customer. Revar Cine is a great place to get these and Ryan is a straight up guy. You can't do any better.
Highly recommend this lens from this retailer specifically
I highly recommend buying the Meike mini primes from this retailer specifically. The glass looks SOO good on the Komodo. For the price point you're basically stealing. Revar Cine shipped my order incredibly fast too.
The RF are great for my Komodo
I was unaware that they had the RF mount available for these and decided to go with those as I have 2 Komodos. These do not disappoint at all. They are fast to pull focus on and the image is absolutely cinematic. They are clean but not in a sterile way. I went with the complete set they have and I am hoping they come out with the 24mm version in the RF mount. They are also super light for gimbal work. They are also matched in terms of using a follow focus system so you do not have to keep moving the motors around when you change the lens. I am literally considering getting another set since I have 2 Komodos and will be able to keep a matched system for those moments I need the same focal length on both cameras. Revar Cine also delivered these far sooner than I was told which is another plus!
Built To Last
High quality anodized aluminum construction
High Resolution
Resolution far exceeding 4K, 6K and 8K sensors currently available
Industry Standard
Each set of lenses has a standard front diameter.
Multiple Mount and Coverage Options
Choose from RF Mini Prime (s35), Super35 Prime or Full Frame Prime
Meike Mini Prime lenses have been the choice of thousands of cinematographers for high resolution compact primes.
Mini Prime RF T2.2
Available in four focal lengths, these lenses weigh around 1.5lbs (600g) each. 80mm Front Diameter and 77mm filter threads. Available in 10mm, 35mm, 50mm, 65mm and 85mm focal lengths.
Super35 Prime T2.1
Available in four focal lengths, the super35 series features PL and EF mount options made possible by a larger lens body. 80mm front diameter with 77mm filter threads. Available in 25mm, 35mm, 50mm and 75mm focal lengths.
Full Frame Prime T2.1
This full frame coverage lens set is available in EF, PL and RF Mount options. 90mm front diameter and 82mm filter threads. Available in 24mm, 35mm, 50mm and 85mm focal lengths.
| Manufacturer | Model | Lens Series | Compatibility |
| --- | --- | --- | --- |
| RED  | Komodo | Full Frame  | YES |
| RED  | Komodo | Super35 | YES *RF Adapter Required |
| RED | Komodo | RF Mini Prime | YES |
| RED | V-Raptor | Full Frame | YES *RF or RF Adapter |
| RED | V-Raptor | Super35 | NO *4K only |
| RED | V-Raptor | RF Mini Prime  | NO *4K only |
| Canon | R-Series | Full Frame  | YES |
| Canon | R-Series | Super35 | YES *s35 Crop Mode |
| Canon | R-Series | RF Mini Prime | YES *s35 Crop Mode |
| Canon  | C70 | Full Frame | YES |
| Canon | C70 | Super35 | YES |
| Canon | C70 | RF Mini Prime | YES |